The other day I was talking with my friend, Cassie. Well, whining, really.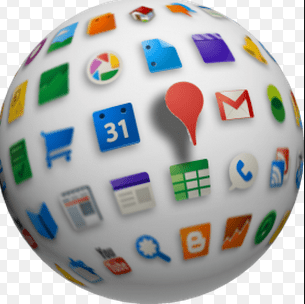 Cassie calls herself a "freelance digital strategist" – a term I love – which basically means she is smart about the internet. I was in a bad mood, and was wailing to her about the fact that I needed a good app to track the feedings and sleeping of my newborn babe. (This, of course, I believed would solve all my new mother fatigue issues.)
To Cassie's discredit, she wasn't entirely helpful with that challenge, as when her seven year-old was an infant there weren't really a ton of apps to help her. But one thing led to another and she ended up giving me a list of her current favorite career apps.
I then spent entirely too much time in the app store, reading reviews and downloading. Suffice it to say, these apps are awesome.
Here's the list. Download these, ASAP.
Workfolio is the perfect platform for the professionals that want an online presence, but aren't interested in blogging. This site allows you to create a simple one-page website highlighting your skills. Setting up your site is totally free.   
Blinkist is the app that makes you appear well-read, without having to actually read. The app turns books into easy-to-digest  outlines that you can quickly scan through. The app is totally free, but you will quickly need to upgrade to the paid version. ($6.99 a month)
Good.co identifies your personality type, and then shows you the companies you would be a great fit for. They have a ton of features, and an amazing blog. When you log-in they give you surveys on your past positions, and allow you to not only grade individual organizations but direct managers.
Photofeeler–Have you ever wondered what people think when they see your profile picture? This site allows you to test different images and crowd sources opinions on whether you look: likable and competent. The site is totally free to use.
Easily.Do–-The best to-do app I have found to date. They sync your email, calendar and social profiles into an easy to scan to-do list. My favorite feature is that they notify you of special announcements your friends make. The app is free, with paid upgrades available.
Smarterer is a career-training tool that lets you test your skills on the go. They offer thousands of mini quizzes that help you sharpen your skills.
Recruiter.com –The best part of this site is that it feels more like a fun community of professionals, and less like a boring job site. They have tons of free content for members, and their profiles are super-customizable so you are able to really connect with the people you meet.
Payscale gives you access to tons of data on how much you can earn in various positions. You can find the median salary of people in your position, or find out how much money you would make in a new position.
SalaryFairy allows you to upload your linkedin profile, and their community estimates how much money you make based on your work history. It is a great tool for testing how other people perceive you based on your resume.
For more on Cassie, check out her blog: CassieBoorn.com. Cassie rocks at connecting brands and bloggers, and has a new free ebook out you can download here.