I could care less about cars.
In fact, I have such a lack of interest in cars that I can't even recognize my own husband's car in a line-up. In a pinch – like, say, when I'm in a parking garage looking for it, I have to go by the license plate. #TrueFact
This week, though, a car-related social media snafu had me interested — and then, annoyed.
Here's what happened:
Chrysler's official account @Chryslerautos sent out a Tweet with the *F* word in it. Poor them, no? Icky mistake, certainly no good for PR, but certainly not intended. The Tweet read:
"I find it ironic that Detroit is known as the #motorcity and yet no one here knows how to f***ing drive."
The Tweet was retweeted hundreds of times. Shortly thereafter, @Chrylserautos removed the Tweet, and sent out this message: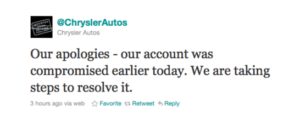 It turns out Chrysler's social media agency – New Media Strategies – was at fault, and Chrysler promptly fired them.
Although at first pass this looks like an unfortunate – but otherwise run-of-the-mill – marketing disaster, I would argue that something much worse is going on here.
Let's take another look at that "apology" Tweet that @ChryslerAutos sent out: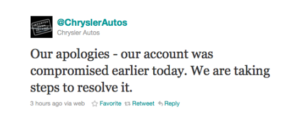 Anyone else notice that word, "compromised" ? A word that tries to imply a hacking situation, a security problem, a virus, a something-going-wrong-with-the-platform? A word that certainly doesn't suggest "we hired a social media agency that made a dumb error"? Why isn't this part of the Chrysler Tweeting PR  disaster?
Come on, Chrysler.