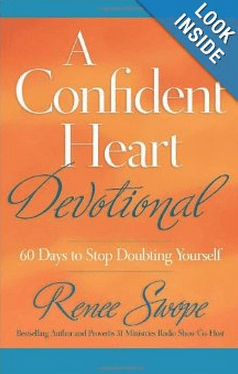 I'm a huge fan of devotionals, and throughout the course of each year I work through a few different ones during my morning routine — which I call my PRESENT time. (See here for a full outline of what I do each morning.)
So when I heard that bestselling author Renee Swope had released a new devotional to accompany her book, A Confident Heart, I was thrilled. After connecting with Renee through a friend last year and first hearing her story, I had then dived into A Confident Heart. And although I love reading the books of everyone I meet, the law of odds says that they don't always measure up;)
Renee's did. In spades.
I was deeply impressed by the wisdom that A Confident Heart held for women, and the way it lifted up women with a heart for God to see the truth of hope around each of us, each and every day. In essence, the book is a call to action for women to stop doubting and start living in hope. To stop feeling overwhelmed. To stop feeling like your life is on the edge. It's a call to action to live with confidence in God's love by understanding the truth of hope. It's also one of those books that you don't want to rush through.
And although I've gotten pretty good at making do and slowly reading through large great books as part of my morning routine, I find that devotionals are truly the perfect medium for ensuring that each and every day I garner distinct wisdom and clarity.
Hence Renee's new book, A Confident Heart Devotional: 60 Days to Stop Doubting Yourself, is exactly what I needed;)
This is the companion that you need to walk you through some of the big picture issues address in A Confident Heart. And although I wouldn't want to say it's a substitute, we can call it a stand-in for busy women who might not have the time to first read A Confident Heart and instead need something bite-sized they can take in in smaller doses.
Over the course of 60 devotionals, Renee teaches a unique tactic to replace the defeating things you say ("…when I say…") with the uplifting things God is speaking into your life ("…God says…").
Ultimately, any woman who is struggling to see the joy around her will benefit greatly from A Confident Heart Devotional: 60 Days to Stop Doubting Yourself.
It's a book for every woman who longs to see hope in the day to day. It's a book for all of us.