On Friday I'm hosting a free online workshop with my pal, Jeff Goins. Jeff has one of the most popular writing blogs on the interwebs, and he's passionate about helping people develop their voice through his program, TribeWriters, which opens up a few times a year.

The workshop on Friday will be a) awesome, b) free, and c) come with a free book from Jeff. In the workshop, Jeff will be sharing his four step method for success in finding your voice and building your platform in the process.

So go ahead register right now and get your book;)
If you've been blogging or writing for any amount of time, no doubt you've been told over and over again how important it is to "find your voice." It's true. It's vital.
But there's another thing besides voice-finding that you've got to focus on. It's building your platform, or, building your tribe.
Even the best writing in the world doesn't mean much unless it's shared and consumed. As a writer, one of your dreams is likely to reach and positively impact thousands or even millions of lives. But if you're writing without a platform or a tribe, you're not really fulfilling your purpose. That sucks.
The problem is although everyone and their brother tells you that you should find your tribe; very few can offer concrete, step-by-step advice to show you how to do it. That's where Jeff is different. In the workshop, Jeff is going to show you how to attract the attention and audience your work deserves.
Reserve your spot now.
It's at June 6 at 2pm CT (yes, there will be a recording if you miss it).
It's free, and it's going to rock.
In addition to being a best-selling author, Jeff has also trained well over a thousand other writers to find their voices, build their platforms, and finally get the attention they deserve.
Here's some feedback from Jeff's past events…
"Not only does Jeff deal with super-practical writing tools, he gets inside the head of a writer, and helps us make peace with this weird craft." — Mike Loomis

"Jeff Goins sheds incredible insights and encouragements to help you write more effectively and purposefully for the tribe you serve." — Jodi McKenna

"Jeff is a genuine and a true leader in this craft. I tell every 'wannabe' writer and blogger I meet about the value of Jeff and his passion for helping writers write!" — Becky Wilson Lusk
In other words, if you want to be a successful writer and build a platform online – Jeff's the guy to learn from. He's been there, done that, bought the tee shirt and has taught many other people to do the same.
This workshop happens on Friday, June 6 at 2pm CT. (That's 3 pm ET for those of you — like me — who are consistently baffled by Central Time and wonder why it — and Mountain Time — actually were created just to confuse and annoy…)
Jeff is also giving everyone who registers a free copy of his book, You Are a Writer.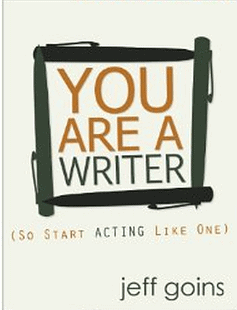 So go on, register right now.
Nothing to lose, lots to gain, yada yada yada;)