Thanks for your interest in Hope Runs, a nonprofit organization started in 2007. If you've found us through the new book, Hope Runs: An American Tourist, a Kenyan Boy, a Journey of Redemption, thanks for reading!
See below for information on our history, programming, and opportunities. Also, please see our website at HopeRuns.org.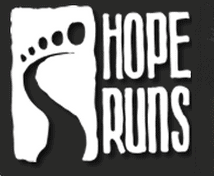 Our History
Hope Runs had its unlikely start at the end of the founders' eight-month trip around the world in 2006. Travel weary, we (Claire Diaz-Ortiz and Lara Vogel) had settled into the Tumaini Children's Home for the last stop of a 20-country tour, and–on the recommendation of a friend–had planned to use this place solely as a welcoming and comfortable base for climbing Mt. Kenya.
However, we had never seen a place so committed to community building and welfare. With experience in numerous different non-profit organizations, we knew the real thing when we saw it. Only a few years old, Tumaini Children's Home has created something amazing, and the kids' happiness and humor is a truly addictive testament to the love and care the elders of the community have invested. We know from their personal stories that many of these children have not grown up in ideal circumstances–whether survivors of desperate poverty, abuse, drug addiction, rape or the death of their parents–these children inspired us with their resilience, strength, and humor.
It was easy for us to decide to return to the home, but we wanted to find a way to contribute something that further strengthened this community, and that supported the commitment to health and well-being that the Tumaini Children's Center had so prioritized. We were also committed to strengthening the ties to developed nations and funding that had kept this orphanage thriving, as it faced a period of financial struggle, while also helping the home to find more lasting means of self-support.
We had both just become serious runners – Claire training for a second marathon and Lara her first – and it had brought us considerable freedom and joy in the past few years. We felt it could be just the right thing for the kids. In its first year, 22 Tumaini marathoners trained for 4 months and then competed in the Mt. Kenya marathon. The entire orphanage also held its first annual Hope Runs 5K and 10K race and fun run with over 150 participants–running seemed to be a great fit.
However, not every kid was willing or able to run throughout the week. We knew the kids had a sense of humor and personal outlook that would inspire people, and became interested in sharing their perspective and voice with the world. As bloggers ourselves, we knew that this instantaneous and casual forum would be best for engaging the kids in a technological skills program. From that grew our online video series, which became a computer class, which then led to a business program…
Of course we could not stay forever. Having seen how so many other places have struggled when international attention and funding wane, we were determined to set up lasting projects. We returned to the US, formalized our work, and began fundraising in earnest.
As we move forward with our work, we want to express our gratitude to everyone who has supported us and of course to the kids who inspire us everyday and make this the most fulfilling work we can imagine.
Our Model
There are an estimated 53 million orphans living in sub-Saharan Africa. This means that one in every eight children has lost parents to poverty, disease, or conflict. All of these children are at high risk of reaching adulthood without the preparation they need to one day uplift and transform the struggling economies of their continent. In short, we are losing a generation of future leaders.
Hope Runs works to equip orphaned and vulnerable children with the tools to escape cycles of poverty and conflict to become productive and empowered adults.
Step 1. Orphanage partnerships
Targeting one of the most disadvantaged and underserved populations, Hope Runs partners with orphanages that have begun in response to need in the community. Such homes rescue children from backgrounds of ineffective education, unhealthy relationships, and mistreatment, and work to overcome the many obstacles in the way of a child's success in life. By creating healthier and safer environments, children's homes provide the hope, skills, and support that children need to build constructive and healthy lives. Understandably, such homes often struggle to meet even a child's most basic needs.
However, Hope Runs believes passionately that it takes more than daily food, water, and minimal education to enable a child to escape poverty forever and move into a productive and safe adulthood. With a constant struggle for resources, most homes have to fight to meet the daily needs of their residents. These struggles must be maintained and supported–but Hope Runs works in these homes to add the programming these children require to thrive, but that would not be possible without additional aid. Classes in business, training in fitness and healthy lifestyles, art courses, computer programs–such programs are usually beyond the reach of orphanage funding, yet are essential to these children's success once they are forced to leave the home behind and fend for themselves.
Therefore, Hope Runs orphanages have:
Established infrastructure: this enables us to be sure that they are ready for deeper programming, and prepared for the long-term goals and partnerships that Hope Runs provides
School systems for the children: Hope Runs is not an educational program. We provide subsidiary support that is not meant to replace academic programming that is regulated and monitored by national standards. This approach allows us to familiarize ourselves with a curriculum so we can expand on it rather than working to ensure we meet each nation's different educational needs.
A plan for the future: the homes we work in must have a realistic and well-formed plan to meet the children's basic needs. Their ability to take care of the children and keep them safe allows us to install programs that will keep these children safe and productive after they have left the home. However, this does not mean that Hope Runs cannot help the home form or maintain this plan.
Such requirements also allow us to maximize the impact of our funding and our accountability with donors, as established infrastructure and an ability to meet basic need guarantees that funds are not misspent or mishandled.
Step 2. Running Programs
Capitalizing on children's universal love of sport and activity, Hope Runs uses running as a primary community builder in locations where structured after school activities and athletics programs are unheard-of luxuries. With its ability to show personal progress, to prove the effectiveness of goal-setting and discipline, and to improve these children's health, running has proven an amazing tool to teach these children motivational and disciplinary lessons that can apply to every aspect of their life. This is also an exceptional way to engage our volunteers in the community and to bring the children together in their efforts toward a common goal.
But Hope Runs doesn't stop there.
Step 3. Forward-Thinking Programming
With the running program at its base, our partnerships with homes are personalized. When it comes to substantial changes or higher-impact curricula, we work closely with the homes in which we work to find answers to the unique problems they face. Our goal is to equip these children for the lives they must lead beyond the home, and from this perspective, we focus on education, health, community outreach, the arts, and social entrepreneurship as means to prepare these children for the future.
There are certain key elements that form the cornerstone of our work in these homes:
1) International Race Involvement: With the ability to help these children train for and complete races in International Events, Hope Runs has realized that the process of goal setting, discipline and self-motivation that are part of any training program are also essential skills for these children learn. With proven improvements in school performance, self-esteem, and future outlook, the involvement in competitive racing for those who are able has proven a valuable and important program for this population.
2) Tomorrow's Leaders: Social Entrepreneurship and Vocational Skills: In collaboration with long-term volunteers and consultants, Hope Runs has developed a business training program that provides high school-aged children with the training they need to begin their own businesses after they leave the home.
These children are often ill-prepared to compete in labor markets boasting unemployment rates of 15-30%. Tomorrow's Leaders works to equip these children with the practical knowledge and skills they need to provide for themselves in some of the weakest economies in the region.
Hope Runs is working with individuals at the Village Enterprise Fund, and the UCLA Anderson School of Business to launch Tomorrow's Leaders in one of Hope Runs' pilot orphanages in Nyeri, Kenya. Our goal is to establish Tomorrow's Leaders as a scalable program that can be expanded to orphanages all over the world, impacting children and their communities for years to come.
Volunteer Involvement: With volunteers on the ground for months at a time, Hope Runs builds diverse programs that help each home capitalize on its own particular strengths. Whether it is jewelry making in Argentina, or poetry writing in Kenya, with technological skills, health-related priorities, and a network of international contacts, we work to provide a multi-faceted education for an entire generation of children. Using internet-based technology classes, blogs to encourage creative writing and practical skills, and art therapy work to help the children focus their energy on productive goals, Hope Runs volunteers do not just improve one aspect of the children's lives. Instead, they work to create lasting changes in a variety of areas that will help the children long after they leave the home.
By creating such strong connections between the volunteers and the community, Hope Runs helps to build up an international network of support for each of our sites. For most homes, money and support come primarily from international organizations. Hope Runs works to both expand upon this support and lessen the homes' reliance on such external groups.
ORGANIZATIONAL OBJECTIVES:
Abroad:
Reverse regional trends on the worsening state of Africa's children in the areas of health, education, and gender parity through well-researched and results-based initiatives.
Foster a commitment to social responsibility in our youth and staff, encouraging them to work collaboratively to develop local development solutions for community needs and challenges.
At Home:
Provide a service learning opportunity to young adults and adults in the U.S.
Raise awareness and develop partnerships to advance the cause of empowering vulnerable youth in struggling communities.
Donations
Hope Runs is a 501c3 nonprofit organization. Go here to make a tax-deductible donation.