I'm ready to say it. Or, rather, shout it from the rooftops.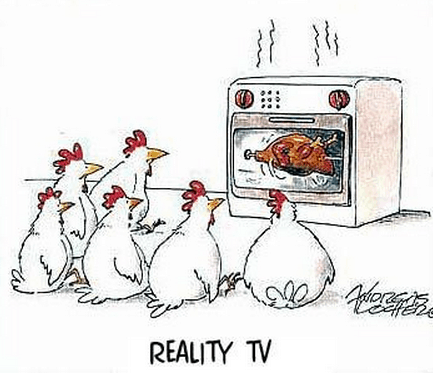 I love reality television.
Yes.
Reality. Television. That oh-so-useless entertainment form that some decry should be wiped from our earth forever. 
And here's why.
Over time, I've noticed that one of the-most commented on aspects of my personality is this very fact. Although I don't know why, exactly, I think it likely boils down to some nuclear combination of a) the fact that I appear somewhat intelligent, b) the fact that I appear busy, and c) the fact that I appear serious. As a result, when folks first mine me enough for personal details to find out about my passion for this strange life form, they end up tripping over themselves with such statements as, "You?!? I would never have thought! That just doesn't seem to fit with your personality." Or, "What could you possible see in that garbage?" Or, "But you seem so serious."
But see, I'm not all convinced that reality television is that bad. Or, rather, worse than any other form of sometimes-needed relaxation.
Here's my defense.
(In three points.)
1. People Judge Folks Who Watch TV, Often While Underestimating Their Own Viewing Time
It is a fad with smart people to watch no television. And some of these people truly – watch no television. This is wonderful, and admirable, and should be the case with all children (I believe). But many fine adults, I find, forget that sports is, well, television. The very same coworker who claims he doesn't watch TV may be the same guy on the couch for 6 combined hours on a weekend for a combination football/golf extravaganza.
2. Reality TV is Just as Bad as Other Television
Cue the above sports comment. I have long wondered why reality television has such a bad rap, when much of the world spends hours each week watching other people bash their heads in on a green field. Especially considering that, for people like me with less than no interest in sports, that entire genre seems just as base. Who cares that folks compete in sports? (A point once raised to me.) They do so in reality television as well. Who cares that sports brings families together? So does reality television (cue my mother and friends.)
3. When Not Overused, Television Can Be Relaxing
Yes, I know that I enter a near vegetative state when watching television. Yes, I know that my brain functions while reading, but not while watching TV, thus making reading an infintely more valuable activity. (And thus why I read 150 books a year.) But do I want to veg out, do nothing, and go comatose sometimes? Yes. And I should be allowed that pleasure, without scrutiny.
So, do you watch television? (Or would you ever admit to it?)