Thanks for ordering Hope Runs!
Check your email for the link to all your free bonuses and your discount codes.
If you're interested in spreading the word about the book, try these things:
Sign up for the Facebook group here. (Click "Join" in the top right and we'll approve!)
Join the group Pinterest board if you want to help pin pictures and quotes that inspire hope. (Just follow me on Pinterest, then shoot us an email at claire@clairediazortiz.com and we'll approve you.)
And, of course, feel free to share the following order offer with your network! (Just copy and paste below…)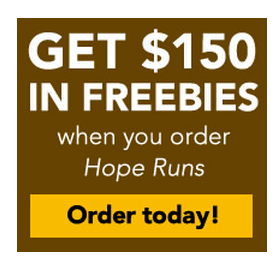 Order Hope Runs now (before April 15, 2014, when the book launches), and you'll get ALL of the following bonuses:
A 50% discount to my upcoming course, Blog to Business.
A 50% off discount to my audio series, Share Your Story.
Ten free ebooks (see the full list below).
10 FREE ebooks
The Present Principle: Seven Steps to Life in the Now
Lead by Morning: 365 Days of the Present Principle
How to Be Social: A Social Media Manifesto
How to Be a Morning Person
Simple Email Success: A Short Happy Guide to Email Mastery
How to Fundraise on Social Media
How to Set Up a Self-Hosted WordPress Blog: A Guide to Starting Your Own Blog in 9 Minutes or Less
How to Travel the World for Less than it Costs to Stay Home: Taking Your Life on the Road at a Price You Can Afford
How to Work Smarter, Not Harder: On Getting Out of the Grind and Getting More Done
Make Better Decisions: How to Think Less and Decide More
How can you get your bonuses?
Order Hope Runs at one of your favorite retailers. (See a full list of retailers here.)
Send the receipt to hoperunsbookreceipt (at) gmail.com and we'll respond with the information of how to get access to your bonuses.
So what are you waiting for?