It started when Kristin just thought her neighbors needed somewhere to gather in a no-pressure situation.  And while it didn't stress her out to invite others into her home, the idea of eventual in-home reciprocation stressed some of the neighbors out.  What to do?  How do I overcome the barrier of fear to engage real connection?  Maybe, just maybe if we gather outside, at say a picnic table, then people would feel freedom to actually connect more than host?
So she painted a standard picnic table turquoise and told everyone on her street that it was a symbol of gathering…a space where they could do life in a stress free spot in the front yard.  Some days it was over a glass of wine and yummy cheese, other days it was lemonade and cookies.  Even other days, in yoga pants, a messy bun, and a half eaten box of cheez-its.  But somewhere in time across those slats of wood painted turquoise, life began to happen on that street more than ever before.
It was a tiny yes that didn't have influence reaching any farther than the end of the street…until it did.
A friend across town loved the idea too, so she got a turquoise table and started with cheez-its and whatever else too.  I found out and loved the idea so much that Kristin sent me a table for my birthday.  When the weather is nice we set out snacks in the front yard on Sunday afternoons.  It's how we started getting to know our neighbors when we moved this past spring.  And now, a couple years after the initial table in just one yard, people all around the globe are painting tables turquoise and inviting neighbors to connect.
Several years ago I read a quote by Annie Dillard that says, "How you spend your days is how you spend your life."  It seems like a simple enough thought, but when you back up away from the big picture of a whole life and break it down into days, suddenly a whole life begins to feel more manageable.  And if we step back again to break days into hours and hours into moments, then suddenly all of the big moments in our lives are really made up of a whole lot of tiny ones.
In her book "The Better Life", Claire challenges us to look at each day and to begin recording the little moments that make us feel most alive.  Over time, as those daily moments are recorded, patterns emerge and expose the things that leave us feeling most successful and fulfilled in life.  And while I love the idea of keeping track looking back to catalyze moving forward, sometimes the things I love most about the future are the big stories that seem to materialize out of seemingly insignificant tiny yesses.  So often, it's the tiny yesses we say along the way that we didn't even realize would amount to anything at all that become the biggest stories of our lives.
"Yes" to a random table in a front yard might just turn out to gather people around the globe.  It's all the little moments that add up, and before we know it, we are living a story that could be entirely different from where we thought we were headed.
So often we get bogged down with a too-big idea ahead of us, and I think some of the best stories are written when we become curious about the little yesses in front of us today.  Where might you end up if you pushed yourself to say a little yes to something new?  Maybe you make a new friend, find yourself on a new adventure, or even begin to see doors open ahead of you that you'd never dared to imagine for yourself.  What could you be curious about today?  What tiny yes could you say that just might take you somewhere entirely new?!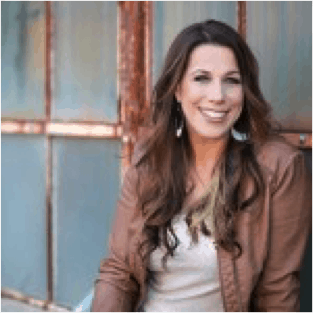 Logan Wolfram would give you full access to her pantry if you lived next door. She is a plate-juggling mom and interior decorator turned writer, speaker, and host of the Allume Conference. She is a passionate leader who desires to see women live fully in Christ. Her first book, Curious Faith; Rediscovering Hope in the God of Possibility releases March 1, 2016 with David C Cook publishing house. Logan and her husband, Jeremy, divide their time between wrangling two inquisitive boys and a 175-pound dog named Titan. They reside in Greenville, South Carolina.