This is a guest post from Patrick Meier, a digital humanitarian I met years ago through his amazing work. He has a powerful story I'm excited to share. Read more about him below;)
#
When my wife went missing after a devastating earthquake struck Port-au-Prince on January 12, 2010, I immediately turned to Twitter.
She was in Haiti doing research and was due back in Boston the following day. I eventually got word that she had narrowly survived a collapsing building. But most in Haiti weren't nearly as lucky as I learned while searching for my wife online. I was struck by how many Haitians were tweeting live from Port-au-Prince, bearing witness to the devastation around them.
These tweets, which often included geographic clues, enabled friends and I to create a "Crisis Map" that pinpointed the damage and resulting needs. We didn't sleep that night, staying up to map as much information as we could. As night turned to day the following morning, the number of tweets and other social media reports exploded. We were about to experience our first battle with "Big Data".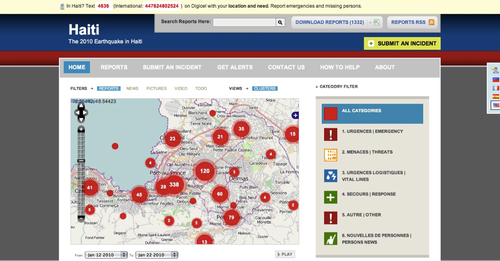 As noted in my new book, Digital Humanitarians: How Big Data is Changing the Face of Humanitarian Action, the map we created ended up making headline news. Ten days into the disaster, Craig Fugate, the Administrator of the US Federal Emergency Management Agency (FEMA) called the map the most up-to-date and comprehensive resource available to the humanitarian community. Indeed, the US Marine Corps even used the map to guide their search and rescue helicopters to select areas for emergency medical evacuation. According to them, our map saved hundreds of lives. Meanwhile, the Haitian Diaspora played an instrumental and far-reaching role, using text messages posted to the crisis map to inform their relief efforts on the ground.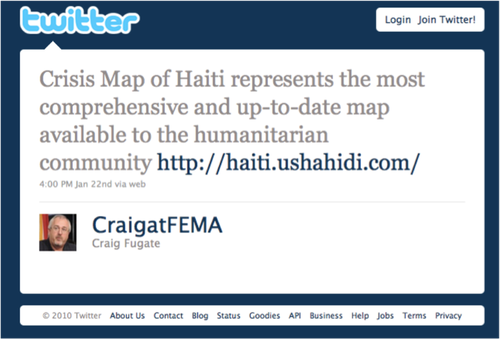 It is worth emphasizing that the crisis map was not created by the Red Cross, the UN, FEMA or any professional humanitarian organization, for that matter. Every dot on that map was the result of a digital volunteer somewhere around the world, manually scouring the web for relevant information on the earthquake. All in all, more than a thousand volunteers across the globe mobilized online to create this unique map. They were the first "Digital Jedis" in what since become a full fledged movement of digital humanitarians. The Crisis Map of Haiti would have been completely blank if it weren't for these volunteers who cared; who wanted to help others in need. So my book is just as much a story about new technology as it is about humanity. Hence the saying of a Digital Jedi during disasters: May the Crowd be with You!
While the Crowd was with us during our first battle with "Big Data" in Haiti, it clear to me then that Digital Jedis would need more than crowdsourcing to support major humanitarian efforts in the future. Today, these disaster response Jedis combine crowdsourcing with artificial intelligence to make sense of the "Big Data" generated during disasters. Take the MicroMappers platform developed in partnership with the United Nations, for example. Digital Jedis use MicroMappers to tag tweets, pictures, videos, satellite imagery and even aerial (UAV) imagery generated during disasters. Meanwhile, the AIDR platform, Artificial Intelligence for Disaster Response, uses these tagged reports to create automatic taggers. MicroMappers and AIDR can already be used to create automatic taggers for tweets and text messages. My team and I at QCRI are currently extending this automatic tagging to satellite & aerial imagery, and to photos and videos posted on Twitter. We also developed TweetCred with our partners in India to automatically score the credibility of crisis tweets. Like MicroMappers and AIDR, TweetCred combines crowdsourcing and artificial intelligence.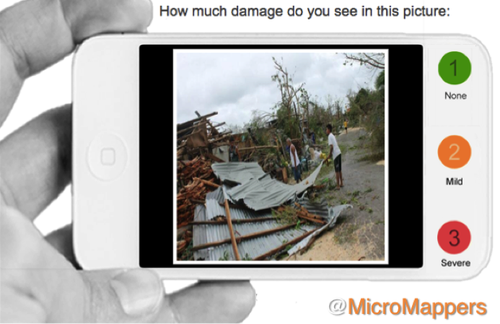 Digital Jedis have come a very long way since the tragic Haiti Earthquake. My book charts their sudden rise and remarkable real-life stories, highlighting how their humanity coupled with innovative solutions to "Big Data" is changing humanitarian action forever. Digital Humanitarians will make you think differently about what it means to be humanitarian and will invite you to join the journey online.
—
Patrick Meier is an internationally recognized thought-leader on humanitarian technology and innovation. His new book "Digital Humanitarians" has already been endorsed by Harvard, MIT, Stanford, Oxford, UN, World Bank and the Red Cross. Patrick directs QCRI's Social Innovation Program where he develops "Next Generation Humanitarian Technologies" in partnership with leading humanitarian organizations. His work has appeared in the New York Times, Washington Post, CNN, BBC, Forbes, Times, Wired and Mashable. Patrick's influential blog iRevolutions has received over 1.5 million hits. He tweets at @patrickmeier.