My girlfriends and I are in the midst of planning our annual reunion, and once again we're using a nifty tool called Doodle to schedule it. Doodle is one of those cool little planning things I take for granted ever since I was introduced to it, but I realized recently that not a lot of people know about it. Consider this your introduction.
What's Doodle?
Doodle is a cool (free) online tool that allows you to coordinate schedules with many folks all at once. It's simple, free, and fun.
How Does it Work?
The organizer, or "host" signs up for an account, and creates a "poll". The time frame on the scheduling poll is up to you. Are you looking for a time to host a conference call during one particular day, or are you (like us) trying to find a good weekend to get together in Spring 2013?
In our case, we've set it up to show which which weekends 8 different people can go to a reunion. (And no, one friend is not actually named Bilingu.)
Then, the host simply emails out the link to the poll to all the folks that need to answer. Each person who receives the link then clicks over and checkmarks what times, days (or weekends) they can make a particular event.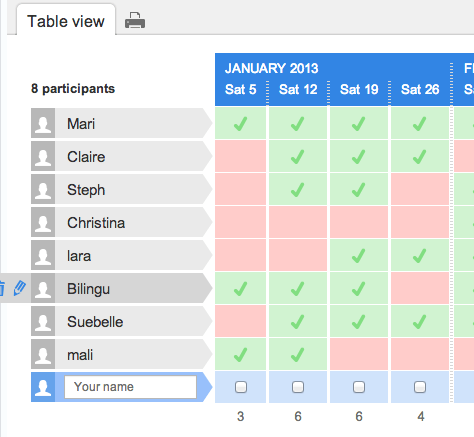 As for us, you can see that we're already having scheduling problems. As in, there is no one weekend all eight participants can make it. That okay, we'll just changing the parameters of the poll (read: extend the dates) until we find a good date.
Given how many babies, weddings, and work trips my friends and I are facing in this season of life, Doodle is approximately one million times better for scheduling than exchanging eight million emails.
Have you tried Doodle? Would it work as an easier way for you to schedule an upcoming event or regular appointment?