"One person can make a difference, and every person should try." ~ John F. Kennedy
'Tis better to give than receive.
#truth
When I got the honor of being the first social good type to kick off the 12 Days of Giving Challenge, it didn't take long for me to decide on my charity of choice.
Today, I'm happy to kick off Day 1 of the 12 Days of Giving challenge by telling you a bit about today's cause: Hope Runs. In the days to come, make sure to look out for who other participants like Scott Harrison, Dennis Crowley, Andy Baldwin and Beth Kanter have chosen to honor!
UPDATE: The next 15 folks who donate $15 to Hope Runs will get a free copy of my book, Twitter for Good!
What is Hope Runs?

Hope Runs is the non-profit organization I started in 2006 while living in an orphanage in Kenya. You can read the story of how I started Hope Runs in Runners World or in the Huffington Post.
Five years later, Hope Runs still provides athletic and educational opportunities for children and teens living in orphanages in Nyeri, Kenya. We are small, scrappy, and effective.
Hope Runs is happy to be one of the beneficiaries of the 12 Days of Giving Project. I hope you'll read about our work, and consider donating. (Yes, Hope Run is also the beneficiary of the Twitter for Good Unconference, and yes you can still sign up for that with a $100 donation.)
For those of you who've heard me talk about why I'm (at least) half a mom because of @sammyikua, FYI that Sammy and I first met out in the children's home where Hope Runs started in Nyeri, Kenya.
What is #12DaysofGiving? 
Giving is good. Especially at the holidays — when people are a little kinder, a little more generous, and a little more willing to help a stranger.
All of these things led to the #12DaysofGiving, a 12-day bonanza of giving, sharing, and promoting social good from 12/13 to 12/24. Each day, amazing people (like Scott Harrison, Dennis Crowley, Andy Baldwin, Beth Kanter, and little ole me!) and charities will be highlighted, with the goal to raise over $12,000 for the causes, as well to enlist the help of millions of passionate social media users globally to help spread awareness.
The goal is not only to show support for these causes, but also to illustrate the power of social media for social good and the massive impact thousands of small, meaningful actions can help when used collectively.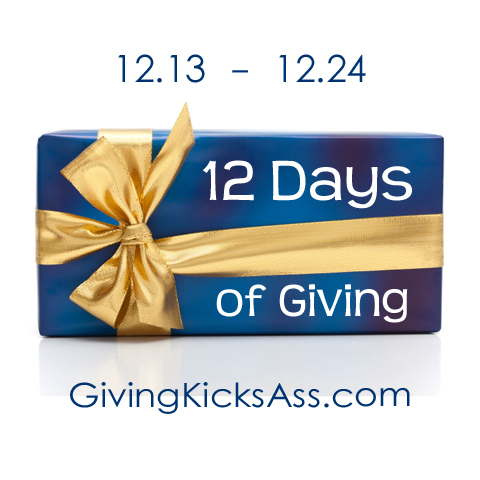 12 Outstanding Charities.
12 Inspiring Influencers.
12 Days of Giving…
One Amazing Project
How can you help?
First, please share this on Facebook, Twitter, Linked In, your Blog, and email. And if you can, please make a small (or huge!) donation on Crowdrise to any or all of the diverse group of incredible charities here. Follow @12DaysGiving on Twitter, and learn more on the 12 Days of Giving site, GivingKicksAss.com, or on Crowdrise.
I'm particularly excited to be using Crowdrise for three critical reasons:
They gave me the softest tee-shirt I have ever owned.
I'm on a panel with them this year at SXSW.
I was there when Ed Norton launched it.
Happy giving!
Oh, and go donate here.