Referral Key is one weird force to be reckoned with.
Three times in the past week I have received email invitations from someone in my address book that state, "If you're taking on new clients, I'd like to include you in my private referral network to send you business leads through Referral Key."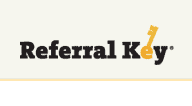 All three times these invitations came from a person I sort of know on varying degrees, and all three times these invitations have confused me immensely. So I decided to investigate what new, hot thing I was missing.
On the surface, Referral Key seems to be a way to get and give referrals on stuff. Although the concept of "cash rewards" sounds a bit spammy, to say the least, I'll go in with an open mind and think that maybe that's just bad website copy. I click forward, to presumably confirm my dear friend's referral.
Here's where things got confusing.
In accepting the "referral invitation" from one person, I had to enter in some data in order to "accept" the invite — never mind that I'm not entirely sure what that means. Most importantly, though, I encountered the following drop down menu, where it became blindingly clear to me that I didn't (seem) to fit in.
I needed to choose one area of expertise, and these were my options: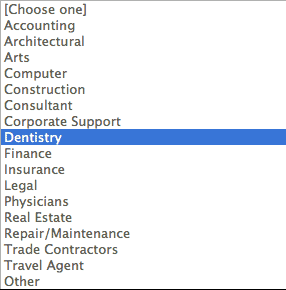 Without seeing anything remotely near my true area of expertise, I consider clicking "computer" (not dentistry, although I was tempted, as you see above). However, we all know, "computer" is a pretty bad description of a silicon valley business type. I ended up choosing "consultant" — semi-accurately lumping myself in with everyone who has learned at least one skill in their lifetime they like to tell others about.
It was then that the weirdness of cash rewards re-entered the picture.
Cash, L.L. Bean, Callaway Golf (three decades into my life I still don't understand what they do…), and wait…what's that?
Yes! Steak! Who doesn't want to refer qualified business leads for…wait for it…steak!?!??!!
I click on the steak of course, and then enter in to view my profile.
Amazingly, I already have a direct message waiting for me! Someone already knows I'm here!
Referral Key has taken a key from MySpace and my very own Tom has sent me my first welcome!

The Tom of Referral Key is Lewis Weinstein and it says he's been in business 5 years. I'm assuming not at Referral Key, but you never can tell with these stealth start-ups;).
Most enticingly, though, I see that there's a little wrapped present at the bottom of Tom's Lewis's icon that promises me $75. I love presents, and quickly click through to find that if I refer someone to Lewis I'll be bringing home a whole lotta steak.
Meanwhile, I've got another direct message in my inbox, this time from someone saying they've already taken a "quick peek at my profile" (I haven't uploaded one) and who also happens to offer a whopping $1,000 referral prize in the bottom of his profile picture. Although I am once again dazzled by the conversion of extra zeros to steak, I'm still confused…who do I refer, and why?
Granted, it seems like I could annoy everyone I've ever gotten the email of by sending them an invite and hope that 20 of those people sign up for Referral Key and one of them somehow finds their way to be a client (for what I'm not sure) of Lewis's…but…that someone how just doesn't seem like a very effective way to get steak. Nor to network.
Back to square one, I decide to look up some Referral Key reviews of how people are really using the service. I like Mashable, and I see they gave the following entirely, thoroughly cautiously tepid comment: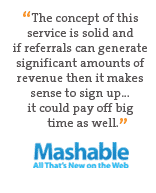 I'm not entirely invigorated by the fact that the "concept of this service is solid", so I looked for more people giving reviews of the service. And I see this.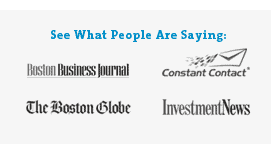 Well that's funny, I think.
Let's review those four reviewers again:
Boston Business Journal
The Boston Global
Investment News

Constant Contact
Now, if you're a regular Jane like me with some experience with Constant Contact (say for sending newsletters for your non-profit organization), you may also be confused why they are listed alongside the Boston Globe as reviewers of the bright new service that is Referral Key.
Some digging found this quote from them: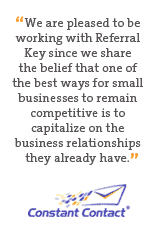 It's cool that Constant Contact likes referral key, but I'm a bit baffled why they are listed as an endorsement. Since, on the surface, they seem a bit of a competitor (and not a trusted international news source), I would assume that's because Referral Key is using something of their back-end. Then I re-read the first phrase again. Ah yes, "working with" – collaboration confirmed! (Objective endorsement negated.)
My Conclusion on Referral Key:
After 15 good minutes my most concrete conclusion about Referral Key is that I should offer myself as a Consultant "referral" to Referral Key to provide them the valued advice that a) I am not a dentist (aka their expertise categories need re-hauling), b) Constant Contact is not a good endorser for their homepage, and c) simple case studies of Referral Key efficacy are needed to entice people to sign up.
Your Review?
Like all new things, Referral Key has the one in a million chance of being the next great thing. To get there, though, it'll need some referrals (!) from people who have used it well.
Have you used it well and lived to tell? Tell us how, as I'm a) eager for mind-changing and b) always up for the possibility of earning FREESTEAKFREESTEAK off of my referrals for dentistry consultations.