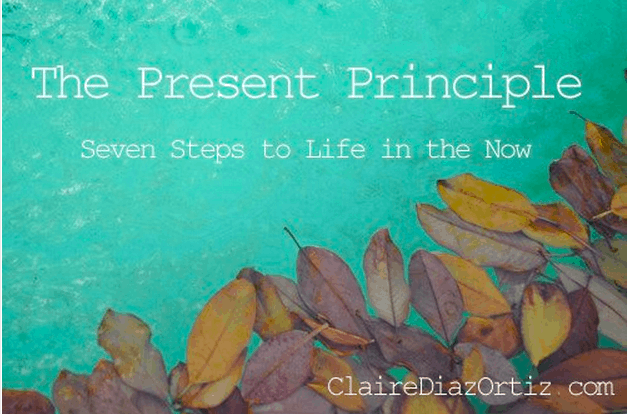 Looking for a free copy of The Present Principle? Just enter your email address in the box below!
In the New Year, I'll be launching a new ebook called Lead by Morning. It's a 365-day morning motivational reader aimed to get you started to greet the day. (If you would like to receive a free copy in exchange for reviewing it, fill in this form.)
In creating this motivational reader, I used the foundational 7-step model I call The Present Principle. It's how I start my day, and it may work for you, too. I wrote an ebook all about this 7-step model, and I'm giving away the PDF version for free.
For a free copy of The Present Principle, enter your email below.
(Or, go here.)

Having trouble finding your download? You'll need to confirm your email address, and then you'll receive an email that starts with "Hey you! I'm Claire…". That email will have your download link in it;)

While you're waiting for it to come to your inbox, here's an overview:

The Present Principle is a 7-step model for getting your days off to a better start. Read this article for more on the simple acronym.

P — PRAY

(I start my days with a cup of tea in hand, and a quick prayer of guidance, thanks, and direction. if prayer isn't your thing, then just take a moment to PAUSE. take in life, and breath out your woes)

R — READ

(After prayer, my mornings start with reading. A bible, a devotional, and a a bit of motivating reading are my tools of choice.)

E — EXPRESS

(Following time in reading and prayer, I express my own thoughts. Use a journal, a post-it, and put pen to paper to share your thoughts and expressions.)

S — SCHEDULE

(Check in your day, and scan your week at large. I spend 5-10 minutes doing both in this time.)

E — EXERCISE

(Moving is key. Even if it doesn't happen in the morning, getting in exercise of some sort into your day is essential to be happy, healthy, and grounded.)

N — NOURISH

(Do one thing today that truly nourishes you. Take a bath. Read a novel. Play with a baby. Do it for you.)

T — TRACK

(How did you do? How many of the seven steps were you able to complete today? Can you do better tomorrow?)

Enjoy!