I was so excited to find this amazing photo the other day. Look closely and you'll see my best friend and co-founder of Hope Runs, Lara Vogel, reading Leaving Microsoft to Change the World.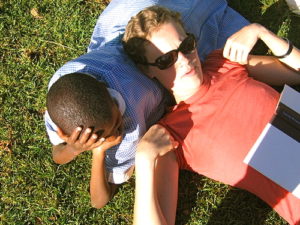 The great part is this photo was taken circa 2006 in Kenya, back when we were working in our non-profit, Hope Runs. I'm not sure how much Mary, 10, was absorbing, but she appears to be providing a nice resting place for Lara's head.
Interested in starting a blog of your own? See my free guide to setting up a blog, and get a discount on website hosting through the provider I recommend. For more advice on blogging, sign up for my free blogging tips.