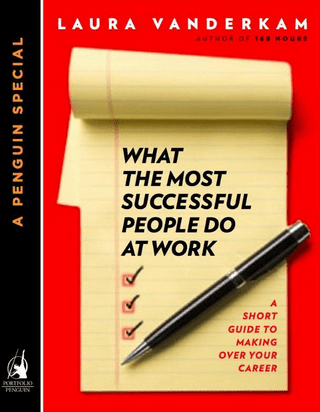 Laura Vanderkam has done it again.
Vanderkam, author of books like 168 Hours: You Have More Time than You Think, has become a feature in my email inbox ever since I read ones of her books for the first time and started emailing her incessantly. (I tend to do that. I'm sure she's thrilled. Ha.)
What I love about Vanderkam's writing is that it's smart, practical, and immediately applicable. It makes me think, and pushes me to change my life for the better. Furthermore, I'm not without my share of pure admiration. Every time I read something she writes I think: Why can't I write that like?! (And then I email her saying that. See above.)
Her latest ebook, What the Most Successful People Do at Work, came out this week, and she gave me a copy earlier this month to check out. It's the third in her "What the Most Successful People Do" series, this time focusing on what successful people do at work to work better, smarter, and more effectively.
Vanderkam says this ebook is her favorite in the series, and for good reason. The ebook is packed with great insights, and here are a few key ones to get you tempted to pick it up:
You can make your hours count more by investing them, rather than spending them. They key is making sure you know the difference between investing and spending. 

You can only work so many hours, therefore astonishing productivity requires making the hours you have count more. 

There are seven daily disciplines that effective people employ to make their hours count more. See a great preview of those seven disciplines here. 
Check out the book here (it's just $3). It's well worth it;)
While you're at it, take a look at the other two books in the series: What the Most Successful People Do on Weekends, and What the Most Successful People Do Before Breakfast.
You can also get a free chapter of her book All the Money In The World by subscribing to her monthly newsletter here.
Have you read any of Vanderkam's work before? If so (or if not), what do YOU do to work better when you're at work?