'Tis book review time. And this time I'm featuring books I'm positive you've never heard of. Why? Because I read some off-beat books.
See my ongoing list of the 100 books I'm reading in 2012, and check out their (sometimes) pretty covers on my Pinterest board, cryptically entitled: The 100 Books I'm Reading in 2012. As always, if you've got a book you want me to read/review/spill tea on, just drop me a line.
And now, for some irreverent book reviews.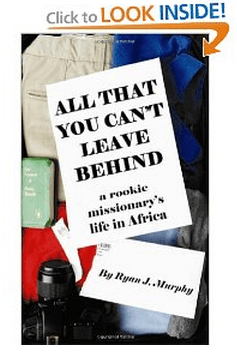 All That You Can't Leave Behind: A Rookie Missionary's Life in Africa
I have long been obsessed with missionaries, expat aid workers, humanitarians in far-off bushes, Peace Corps volunteers, and really anyone living in strange (to them) places for unusual jobs or callings. I even did a master's degree in cultural anthropology studying these folks — because I'm that obsessed. If there is a nonfiction book about someone's experience doing any of the above, I have a) already read it or b) am crying because I don't know about it.
So when I stumbled upon All That You Can't Leave Behind on Kindle, I was able to look past the cover (yikes!) and read some of the Kindle reviews — which were alarmingly positive. Let's be honest, though: the premise had already sold me, and the three dollar price tag made it that much sweeter.
I loved this simple, honest memoir.
For all the reasons above, and because it took place in the region of Kenya I lived in, and at a school (Rift Valley Academy — rumored to be the best boarding school in all of Africa) that has long fascinated me. In the book, a young San Diego couple decides to sell their house and move to Kenya — for a short twenty years or so. It's a great, truthful insight into what it's like to swap your life for another, and to make a home in a strange new place.
When Erik Hersman (aka @whiteafrican), one of the founders of an incredible nonprofit technology company – Ushahidi — told me he went to Rift Valley Academy and that the author Ryan Murphy was his teacher, I well, flipped. Erik swears he's going to find me Ryan Murphy's email, and I can guarantee I'll be stalking him until he does.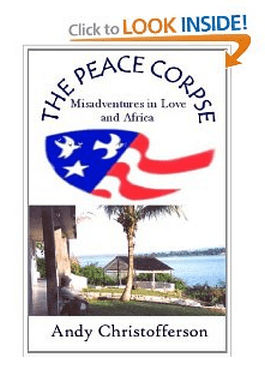 The Peace "Corpse": Misadventures in Love and Africa
I'll get it out of the way immediately: this book could use some more editing. In both the areas of word choice (read: cussin') and content (read: overly descriptive scenes that feature the author and girls), this book might benefit from a less is more approach. That said, I admire the author's ability to "let it all out" — and to know he's doing that. He tells the world that he's going to tell it like it is, and he does.
I told you above why I loved reading about people who do strange cultural exchanges to far-off lands, and one of my favorite demographics to obsess over are current and retired Peace Corps volunteers.
Andy Chrisofferson is the textbook Peace Corps volunteer: a newly minted college grad who has never left the country before, plopped down in Africa with no idea what on earth he should be doing. And for this exact reason — and because Andy knows his charming uselessness in a strange land and is candid as can be about it all — this is a great narrative.
Also — this guy is funny. 
I had many a serious laugh-out-loud moment. And not just because I share so many shudder-worthy whitey-person-in-East-Africa mishaps in my not-so-distant memory.
Have you read either of these books?
Don't forget to check out the full list of the 100 books I'm reading in 2012 on this page, or peruse The 100 Books I'm Reading in 2012 Pinterest list.