Days have passed, I've read more books.
See my ongoing list of the 100 books I'm reading in 2012, and check out their (sometimes) pretty covers on my Pinterest board, cryptically entitled: The 100 Books I'm Reading in 2012. As always, if you've got a book you want me to read/review/spill chai tea on, just drop me a line.
And now, for some irreverent book reviews.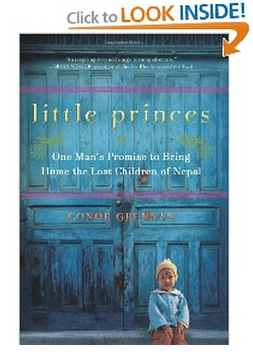 Little Princes: One Man's Promise to Bring Home the Lost Children of Nepal (Conor Grennan)
This book will go down as one of the best I read in 2012, and I'm fine with that.
During my trip to Nepal this winter with my husband, I was cold. Very cold. Since the last time I was in that fine country it was summer and I was climbing to Everest Base Camp in tank tops, it didn't occur to me to do things like check seasonability of vacation plans before packing my lone sweatshirt. Being cold led itself to staying under the covers in our lovely hotel, drinking tea and reading books by candlelight when the power went off (de rigueur in winter in Kathmandu).
Thankfully, when not laying in bed we went to bookshops, where we picked up this lovely story about one twenty-something American's fascinating non-profit adventure in Nepal. Love, adventure, and adorable orphans collide in this one. It's like Three Cups of Tea. But true. (And far better.)
I would also like to state for the record that I wish Conor Grennan had been in my business school class. (Yes, reading author bios is useful).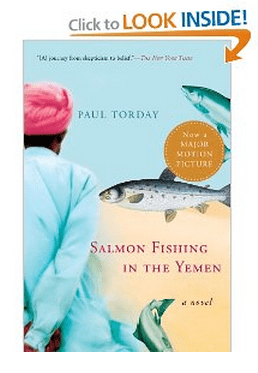 Salmon Fishing in the Yemen (Paul Torday)
I don't read many novels, and so when I do I hope that they are good ones. This one was.
One highlight of our Nepal trip this winter was staying in a hotel with the best host library I've seen in 55+ countries. I wanted to bring the whole darned library home with me, but it was heavy, and I was tired.
This novel by Brit Paul Torday was languishing in the "Novels" section (yes, this hotel library had organized sections and comfy couches!) and immediately caught my eye with it's arresting cover.  (Mine looked a little different than the one above — see my cover, as memorialized on Pinterest via my instagramming iphone below.) I read it and loved it. Witty prose, hysterical storyline, and absurd premise to, well, trout fish in the yemen, of course.
(If confused, I encourage you to look up the habitat requirements of trout, and the geographical location of Yemen.)
Have you read either of these books?
Don't forget to check out the full list of the 100 books I'm reading in 2012 on this page, or peruse The 100 Books I'm Reading in 2012 Pinterest list.