If you've been near me in the last week, you've likely heard me gushing. Not about some of the amazing events I've been to of late, or the weird food my boss made me eat, or the cute cardigan I bought at 70% off at Anthropologie.
Nope.
If you've been listening carefully, you've heard me gush about the 52nd book I've read in 2012.
It's called Platform, and I'm in love (with it).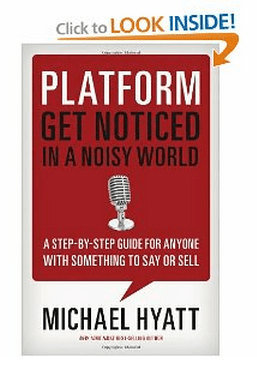 What is A Platform?
Let's back up.
A platform is what you need if you want to get your message out to the world. With a platform, you can build a movement, change the world, and inspire others. I'm here to tell you that you need a platform.
In my own life I've seen the value of a platform, and how it has consistently propelled me to more fascinating, world-changing things. I'm convinced that many of the fun things happening in my life — like Fast Company placing me 21st on their list of the 100 Most Creative People on Business last week — wouldn't happen were it not for the small, shaky platform of sorts I'm (trying!) to build for myself.
You should get a platform, too.
Now.
What is Platform (the book)?
The book that NYT Bestselling Author Michael Hyatt has written teaches you exactly what to do to develop your own platform. And it works.
Here's what I wrote in my early review of the book, which you can see on the back of the snazzy hard copy and which is copied below. What I said then is exactly what I believe now about what Platform will teach you.
"Michael Hyatt is the authority on creating a platform in our crowded world, and Platform is the definitive, step-by-step guide to building a platform—from the ground up. If you're longing to become a true influencer in this world, Hyatt can teach you how. With Platform, Hyatt's done the near-impossible: create a guide even more useful than his wildly popular blog!"— CLAIRE DÍAZ-ORTIZ Social Innovation at Twitter, Inc.
Winning Lines from Platform
One of the best parts about reading on a Kindle is that I don't have to retype all the amazing quotes I highlight from books. In the case of Platform, and the more than 100 highlights I made while reading and rereading, this is a time saving glory indeed.
Here are a few of my favorite one-liners that best capture exactly what this book is about, and exactly what you will learn about building your own tribe and becoming an influencer.
As in times past, success today is not so much about what you know; it's about who you know. And the who is your platform.
In order for you to be successful in today's business environment, you need two things: a compelling product and a significant platform.
A compelling product plus a significant platform equals a big win for you.
Buy It. Now.
The book is out. Today. And I want you to buy it.
Because you will love it. You will learn from it. And finally, you will come away with so many notes and mind-brimming actionable ideas for building your own platform that you will immediately send Michael Hyatt an email asking when the sequel is coming out.
No, really.
Not sure when to buy? 
I have the answer.
If you buy it before Friday you'll get score such a large amount of incredible, mind-filling, swag that — frankly — you'd be silly not to buy the book. (This is why I now own multiple copies, folks.)
Check out the bonuses.