It's been such a pleasure to be here at the Personal Democracy Forum in Santiago, Chile this week. Not only have I had a great time returning to the place where I studied for a term during university, but I have learned so much about the changes in the country in the decade since I was last here!
Today's packed program featured ex-president Ricardo Lagos and State Dept lead innovator Alec Ross – two more individuals in a long list of powerhouse speakers. I had heard about how wonderful Personal Democracy Forum was, and am so happy to have been able to take part in the inaugural event in Latin America.
Although my presentations today did not go as expected (a technical glitch created some problems in one of my presentations!) it's still been a fantastic experience, and I was honored to be able to speak here. To learn more about PDF, check out their website here or follow along with the conference with #PDFLatAm. Amazingly — it was a trending topic yesterday!
Quiero agradecer a PDF por la invitacion — ha sido una experiencia fantastica y estoy muy afortunada!
Tomorrow is another exciting day as we gear up to start TechCamp Santiago, which is a part of Secretary of State Hilary Clinton's Civil Society 2.0 initiative.
I'll be doing some trainings on how to use non-profits can use Twitter, and I'm excited to be doing them in Spanish, and to be doing them on this side of the world.
Finally, here's a brand-new Twitpic from attendee @ConJotaDeJoda who just took this following our last session. Don't I look twelve, as usual?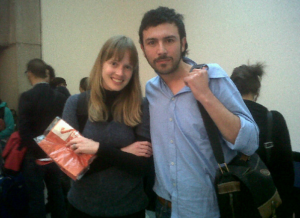 Thanks again to everyone who made my participation here possible. Including, but definitely not limited to: Diego Beas, Felipe Heusser, Andrew Rasiej, Micah Sifry, Natalia Fidel, Katie Dowd, Suzanne Hall, and many, many others!