I'm coming at you from the heart of my digital detox.  
Because the Internet is magic, and the computer is her magician, you are reading this here blog post even though I am not currently typing it. No, I typed this beforehand. Before said break. For your eyes only. Magic, I tell you. Pure magic. 
As I've mentioned before, digital breaks are good for every soul. I believe this so strongly that I even have a new book on the topic (check out Greater Expectations: Succeed (and Stay Sane) in an On-Demand, All-Access, Always-On Age at your favorite bookstore or world wide web book-selling maven).
So I went and took my own advice and went on a break this week.
Here's what I did to set myself up well for the digital break, and what I'm doing to stay sane without my technology.
I Prepared Beforehand
I didn't wake up yesterday and decide to do this. I planned. I have blog posts (like this one) set to go out. I have social media updates (useful, evergreen articles I enjoyed) set to post. I have auto-responders on my email addresses alerting folks to my vacation. I'm ready, Freddy.
I'm Allowing Myself a Little Bit
Yep, a total tech blackout is sometimes a good thing. Last year, I took a 12-day complete digital break, for example, and loved almost every minute of it. It felt like a true digital detox, in every sense of the word. The first couple mornings I could practically feel the shakes as I tried to reach for my iphone to scroll my emails and tweets before getting out of bed. My only "cheat" was to receive text messages if something crazy happened and I had to get online. In about 12 days, I received about 10 messages, 1 one of which was actually important.
This year, I decided I wasn't into such a total blackout, so instead I'm doing a very scaled back version of a detox. I'll be staying off my computer, but checking emails occasionally on my iphone. Since I hate typing on my iphone as is, this will keep me out of the email fray, which makes up the bulk of my blood-pressure inducing digital non-delights.
I've Got a Back Up Plan
By allowing myself some time on my iphone to put out fires, I don't envision there will be any real necessity to spend time on the computer. That said, I've got a simple back up plan if more time is needed. It's called: opening my laptop.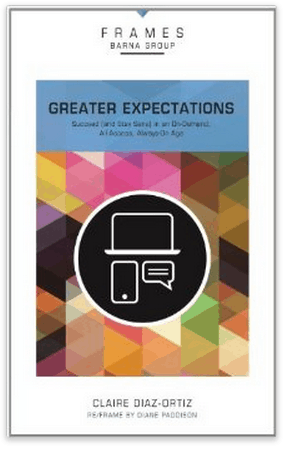 Digital breaks fascinate me, and I love reading about folks who take them and the highs and lows they find along the way. If you're interested in more on the topic, give a gander at my new book, Greater Expectations: Succeed (and Stay Sane), in an On-Demand, All-Access, Always-On Age. It's a tactical tome sharing information, statistics and stories about what digital overwhelm means in our modern life, and a primer for keeping said overwhelm at bay. 
Have you tried a digital break or digital detox before? Did it work?