I've talked before about Chris Guilleabeau of The Art of Nonconformity, and his unique ability to rock the casbah.
Suffice it to say, my admiration for Chris has only grown in the intervening months since I wrote that post. There are two main reasons for this.
Chris has traveled to even more countries, now placing him something like 9 8 countries away from seeing all 193 countries in the world.
Chris wrote a book, "The $100 Startup," that I have devoured. Twice. In one month. (First on Kindle, then in papyrus.)
Since reason number one involves me going to wikipedia, finding the long list of countries the world determines worth of nationhood, copying and pasting the list, cross-referencing it with his list, and then formatting the whole mess into a legible blog post, let's cut straight to reason #2.
Enter Chris' new book.
The $100 Startup: Reinvent the Way You Make a Living, Do What You Love, and Create a New Future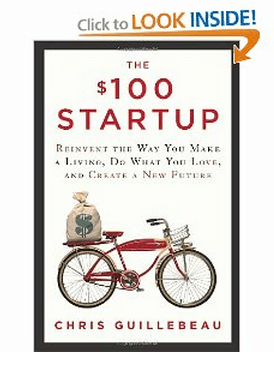 Why You Need To Read this Book
If you're an online entrepreneur (or want to be) this is one of the most practical, tactical, and inspirational books you can possibly get your hands on. It's all about building something from nothing (or, $100). It is chock full of amazingly diverse stories of folks who did just that — and balances inspirational lore with tactical bounty.
There are a couple great things Chris does in particular in this book that I want to point out.
He gives you numbers.
One of the most frustrating things for me as an online entrepreneur is that when reading case studies I have absolutely no sense of the level of financial success a case study is pointing to. Is this virtual dog-washing business deeply in debt? Are they making $18,000 a year (i.e. not enough for most to live on)? What are the numbers here so I can understand if this is actually a case study I should pay attention to?
As Chris describes early in the book, he made it requirement of all case studies he solicited that they laid bare their finances. It worked, and adds dramatically to the interest, believability, and perceived replicability of each and every example he shares.
He doesn't talk about virtual assistants for fifty pages.
I am a big fan of virtual assistants (for some people, sometimes), and love talking about the pros and cons of them as a species.
However, there is a trend when talking about online business to obsess on tactical issues that a) waste a lot of pages I'd rather be hearing about case studies in, and b) are really geared towards people who are already successful. Chris does a great job telling us how businesses started, not just how businesses maximized their successfulness with tactical tips.
Why I'm Angry I Didn't Write This Book
They say that envy is the highest form of flattery. If so, then my flattery is as high as a really, really, really tall stick.
Ultimately, I am very angry I didn't write this book. I am also very angry I have not been to 185 countries.
I am learning to live with these things.
Have you read The $100 Startup to help get your next big idea off the ground? What'd you think?