This is hardly a comprehensive list of the best people to follow on Twitter. But it is mine.
So, after declaring Twitter bankruptcy for my birthday this week, I knew I wanted to make a big birthday Twitter bang when I followed back a bunch of my favorite Twitter users again.
This "big birthday Twitter bang", I decided, would feature me, live-tweeting my thirty favorite folks to follow on Twitter, one by one, on #FollowFriday. (Obviously there is absolutely no correlation between my birthday this week and the number 30. These are random events, people.)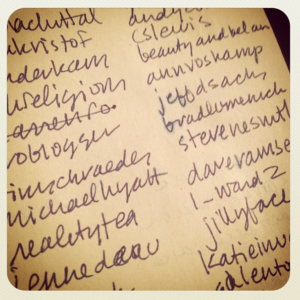 So, today, I did.
I sent tweets like this:

And this:

There are people you'll recognize (like @rickilake). And people you won't. (Like @katieinuganda ).
In the end (if you don't want to read all the tweets) here are my 30 favorite-for-now folks to follow on Twitter. Oh, and YES there are many folks I do follow missing. (To make it easy, I left off my coworkers and family members;)
30. @lvanderkam Because she writes darn good books
29. @prsatran Because while I swam in her backyard, she wrote bestselling books. (that I now read)
28. @charityideas Because she is the most helpful Twitter user I know.
27. @bradlomenick Because he ignites the spark.
26. @adam Because he was the first person I followed.
25. @herbadmother Because I would be dumb not to.
24. @daveramsey Because he has transformed the financial lives of millions
23. @jillyface Because her photos stun me.
22. @katieinuganda Because her story amazes me.
21. @rickilake Because natural birth is (almost always) best.
20. @gretchenrubin Because I met her, but she doesn't remember. (p.s. I love her books)
19. @beautyandbedlam Because she knows how to wear scarves. (among other things)
18. @amanda Because she has been there since the beginning.
17. @alliworthington Because her fourth full-time job is being mom to 5 boys.
16. @glutenfreegirl Because she writes in butter.
15. @jessicagottlieb Because sea urchins are always funny.
14. @somalymam Because she is an inspiration.
13. @acarvin Because he knows the things you want to know.
12. @michaelhyatt Because he is one of the smartest minds in business writing.
11. @hardlynormal Because he is one of the best examples ever of using Twitter for Good.
10. @problogger Because he blogs like God would (read: very, very well).
9. @sammyikua Because he joined. And other things.
8. @cslewis Because his words are breath.
7. @unmarketing Because he rocks the Kasbah.
6. @jonacuff Because he is funnier than God (sometimes). (or something like that)
5. @kenyanpundit Because her bio reads, "Mom of 3 girls who will run the world."
4. @karaswisher Because she knows her stuff.
3. @annvoskamp Because she is thunder in the desert.
2. @biz Because he started it all. (for me, at least)
1. @nickkristof Because he changes the world.
So, who are your favorite people to follow on Twitter?