I told you I'd be heading back to the Social Media for Nonprofits Conference, and I didn't lie. Last Friday in San Francisco I had the pleasure to share the stage in a moderated fireside chat with Craigslist's own Craig Newmark. Craig was a huge support to me in writing Twitter for Good, and was kind to provide a lovely endorsement. I was eager to chat, because Craig is good at saying funny things. To make things particularly interesting, Craig was coming from a dental procedure (the specifics of which I was hazy on) and was employing the use of some bionic woman sized medication.
Since you've never seen people talking before, I've included two pictures from the event.
One, where we look like tiny ant people in the Kingdom of Social Media for Nonprofits.
And another, where we look more human-like, sitting on our grandfather's armchairs.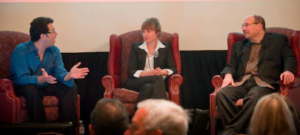 Although it was going to be hard to summarize the chat in one Tweet, then Craig did something to make it really really easy.
He said something more funny than all the other very funny things he had already said.
Yes. "I am the Lady Gaga of the Nerds" was his offering.