I'm a fan of Craig Newmark (that's Craig of Craigslist, for those who need clarification). He's been a big supporter of Twitter for Good and I've been lucky to share the stage with him when chatting all things social innovation. So when he asked me to write a blog post for his new Social Good Blog Series over at CraigConnects answering the question, How Will YOU Change the World in 2012?…., I jumped!
Up and down. When I was down, I started writing. And here's what I came up with…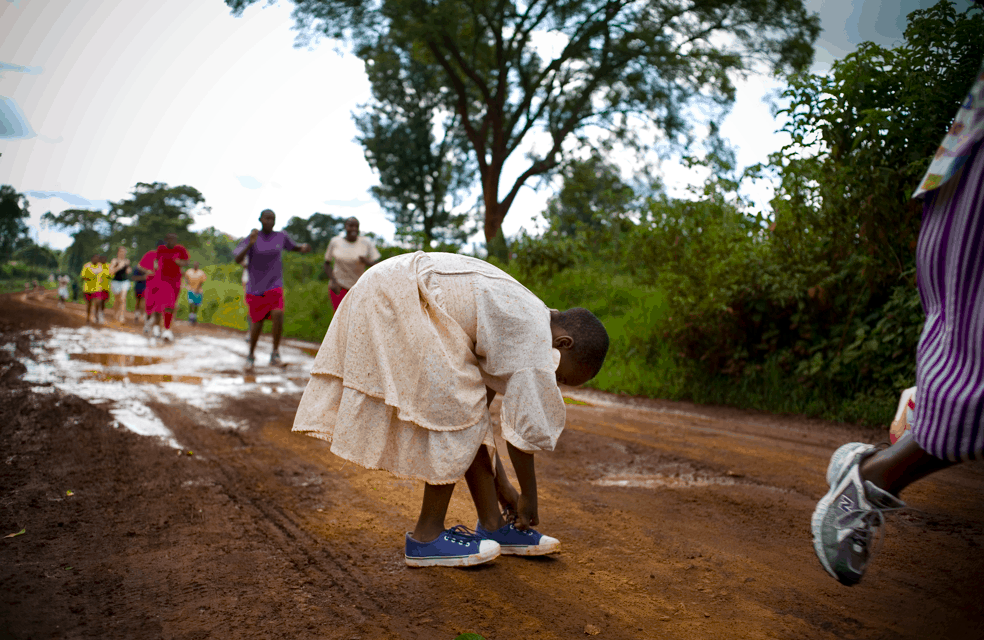 photo by J. Carrier, Runners World
How I Will Change the World in 2012 (A Few Small, Modest Goals Fit for This Here Human):
I will write a new book on world changers. No, this isn't an announcement. But the people I met, and the stories I heard, while writing Twitter for Good convinced me that I want to do it all over again. #soon
I will tell people to read Half the Sky. Nick Kristof is one of my favorite world changers out there. Why? Because he uses his passion (which is writing) to make a difference. He shows that anyone can use their skills to change the world. You don't have to work in non-profit management or international public health. Really.
I will share the work of Global Citizen Year wherever I can. If you've read Twitter for Good, you know I spend nearly a whole chapter diving into the way that Global Citizen Year has used Twitter. And for good reason. Global Citizen Year is one of my favorite organizations around. I found out about them a few years ago, and immediately loved their mission of providing international apprenticeships in the developing world to US high school graduates before they head off to college. I believe passionately that international service learning experiences are fundamental to developing in adolescents (and in adults!) a compassionate, action-oriented, global perspective. Creating these cross-cultural exchanges is a key in changing our world and making it a better place. In the beginning, I loved the organization from afar. When I realized I'd known the founder of Global Citizen Year, Abby Falik, since I was 13, I fell out of my chair. When @sammyikua then decided he wanted to apply, and then got accepted into the 2012 class of Global Citizen Year fellows, well, my heart darn near fell out of my chest(!) It was his dream, and it was mine for him, and now we're all cheering.
So the big question: What will you do to change the world in 2012?