Do you want to learn how to use Twitter? Pick up Twitter for Good and learn to excel on Twitter in 5 steps.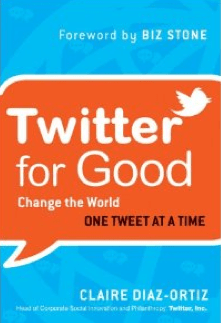 Or, register for my Twitter for Good video course. See details here, or click below to register with a donation to charity.
Register:

Want to Sign Up?
Want an overview of the 5 steps?
The T.W.E.E.T. framework is a model I developed to best teach you to win on the platform. I teach it to organizations and individuals because it works. The jarringly obvious acronym also rocks.
The T.W.E.E.T. Model…

T = Target
You can't get anywhere on Twitter if you don't have a target (or goal). What's your goal? Here are the three most common goals on Twitter.

W = Write
It's time to send your first Tweet. Whatever it may be. Send you second. Stop editing yourself and let it flow. Do it like Kanye to really win.
E = Engage
Once you send your first Tweet, the world won't come running (unless you're Kanye). Engage with others to get them to see you, listen to you, and interact with you. We offer tons of tools to help you do so.
E = Explore
Motivational speakers tell you to try one new thing every day. Do it on Twitter, too. More importantly, find new people. Twitter is about relationships, and it's time to start building them.


T = Track
You won't know if you've met your target unless you're tracking it. Are you? Here are some great tools to do so.
And here's a great illustration of the T.W.E.E.T. Framework explained in Twitter for Good and in my talks. 
Many thanks to Rob Cottingham of Social Signal!
Need a better breakdown of the T.W.E.E.T. model and how to excel on Twitter?

Pick up the book, silly. Or contact me with questions or speaking engagement queries.