I've learned something in this life.
Sometimes, the best laid plans can produce a bunch of nasty succotash (yes, that's how you spell it, I checked).
For those of you who signed up for my Twitter for Good Unconference, you've recieved my note.
I'm sick. I don't have a voice. And so we can't do a big old video conference this week.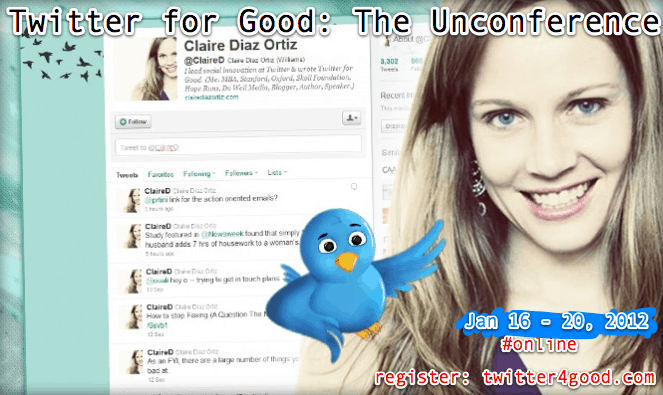 And because it's the holidays and all this snow is falling and the Christmas trees are walking themselves off lots we can't do it next week, either.
In fact – I'm rescheduling for a whole month from now. I know. It's annoying — but I'm giving all registrants so far free copies of Twitter for Good in reparations.
The new dates for the Twitter for Good Unconference?

January 16 – 20, 2012.
Same cool unconference format. Same great content. The difference? A conference leader with a voice.
Need me in the voiceless interim this week?
Like Adele, I'll be tweeting.
What is the Twitter for Good Unconference?
The Background:
I wrote Twitter for Good: Change the World One Tweet at a Time. A book. With pages.
I thought that by publishing said book I would end up getting less questions in life about how to use Twitter to change the world. I was wrong.
The book has served as a (wonderful) invitation for folks to ask me more questions, deeper questions, more engaged questions, about how to help their non-profit organization, social enterprise or cause excel on Twitter.
I realized the need to find a space to give them the answers they need.
The Twitter for Good Unconference is just that space.
From the comfort of your home or office, enjoy dynamic, informative training videos from yours truly (Claire Diaz-Ortiz), with the aim of helping your nonprofit organization, for-profit business, or cause use Twitter to change the world.
The Details:
This is an online-only conference. From Monday, January 16 – Friday January 20, I'll be posting videos every day at 12:00 Noon PST that teach you the tools of Twitter for Good. In over ten hours of video content, I'll help you use Twitter to help your non-profit organization excel. Log in to watch the sessions live at 12 pm PST, or watch them late at night with your sherry and bon bons.
All participants get to up to five specific questions to ask me that I will record video answers to.
Cost? None, really. However, I'm asking all participants to make a $100 tax-deductible donation to Hope Runs.
What You Will Learn:
I will help you develop a rocking, smart, awesome Twitter strategy for your nonprofit or cause.
I will walk you — in depth — through each of the five steps in the 5-step T.W.E.E.T. model for nonprofit success that I teach in Twitter for Good. The "TWEET" model explores the 5 main steps that any individual cause or organization should undertake to win on Twitter. These are five practical, tactical steps and I believe that once you master them you will have the keys to making Twitter work for you and your organization.
I will give you excellent case study examples of great nonprofit organizations doing what you should be doing.
In video Q&As, I will answer up to five questions on video that you have as you implement the steps.
Sign-Up Bonus:
 Cost?
I'm asking all participants in the free conference to make an online donation of $100 to Hope Runs. Yup, it's tax deductible.
Registration:

Want to register? Make your $100 donation below.

IMPORTANT: Add a "special note to seller" in Paypal with your name, email, and the word "unconference". We'll send you log in information and your free book.

FAQs About the Twitter Unconference:
I'm busy the week of January 16 – 20, 2012 and can't watch live videos during those days — can I still have access to the materials at a later date? 
Yes. All training videos will be recorded and you can access them any time.
Why Isn't This Free?
Well, it kind of is. But it's kind of not. I'm taking the opportunity to make this a holiday fundraiser for Hope Runs, the non-profit organization I co-founded in 2006, hence I'm asking participants for a donation. This also helps keep the group small;)
Can I get my money back?
No. It's a suggested donation, not a conference fee.
Will I get a tax receipt for my donation?
Yes.
Will you be hosting another Twitter for Good Unconference one at a later date?
Dunno.
Is Santa coming?
If you're good.
I have more questions, who can I write?
clairediazortiz(at)gmail.com
Register:

How do I register for the Twitter for Good Unconference? Donate $100 below.

IMPORTANT:

Add a "special note to seller" in Paypal with your name, email address, and the word "unconference". We'll send you log in information and your free book.